Ordering


To order a holster send us an email with the following information:
Gun model
Barrel length
if it has lights or lasers etc.
Holster style
Leather color
Stitching color

Once we know what you want and need we will send an invoice through PayPal for you to pay for the holster.
It can take 2 or 3 weeks for a holster to ship depending on if we have the mold in stock. If we have to order one it takes longer than if we already have it. If it is in stock it will most likely ship out in less than 2 weeks.

---
Here is a list of the current molds that we have in stock.
Any style of holster can be made for any model of firearm.
Colt Mustang 380


1911 
Glock 19
Glock 26
Glock 27
Glock 33
Glock 42
Glock 43
KelTec PF9
Kimber Micro 380
Kimber Micro 9
Ruger LC9
Ruger SP101
Ruger GP100

Sig Sauer 2022
Sig P365 XL
Sig P938
S&W MP Shield 9 & 40
Shield with Crimson Trace laser
S&W Bodyguard
S&W Chief Special
S&W J Frame
S&W SD 9/40 VE 
Springfield XDS 3.3
Taurus Judge 2.5" chamber 3" barrel


Taurus

 Judge Public Defender Poly
Walther PK380
---
Here are the available colors for the leather and stitching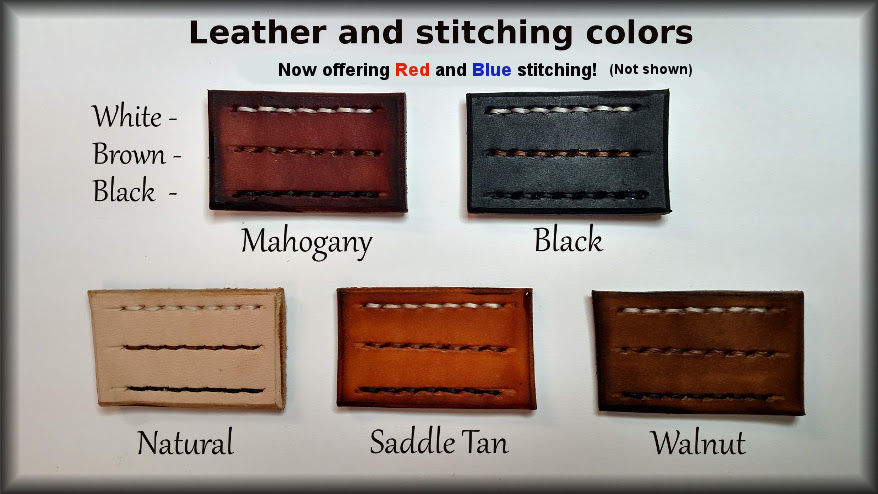 ---
Our models